Stockists
CALifornia
Berkeley
Shibumi
1402 5th St.
Berkeley, CA 94710
Healdsburg
LULO
303 Center St.
Healdsburg, CA 95448
Los Angeles
ige
7382 Beverly Blvd.
Los Angeles, CA 90036
igedesign.com
Oakland
Vessel Gallery
471 25th Street
Oakland, CA 94612
vessel-gallery.com
San Francisco
Love & Luxe
1169 Valencia St.
San Francisco, CA 94110
loveandluxesf.com
Silicon Valley
de Novo
250 University Ave.
Palo Alto, CA 94301
denovo.com
Tustin
Discoveries
17300 17th St.
Tustin, CA 92780
Nationally
Massachusetts
Kestrel
22 Masonic St
Northampton, MA
kestrelshop.com
Minnesota
Gallery 360
3011 W. 50th St.
Minneapolis, MN 55410
Ohio
Ombre
4011a Allston St.
Cincinnati, OH 45209
Texas
Postive Images
1118 West 6th St.
Austin TX 78703
positiveimagesaustin.com
Washington D.C.
Jewelers' Werk
3319 Cady's Alley NW
Washington, DC 20007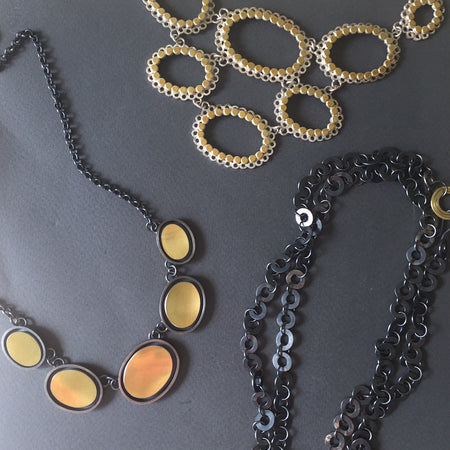 About
ARTIST'S STATEMENT
For the past few years, I have been using sterling silver tubing to make my work, in addition to 22k bimetal. I am inspired by the industrial aesthetic of the material, finding endless design possibilities. Using change of scale and repetition of form, my goal is to create timeless work that is modern and wearable. The addition of diamonds to the collection adds a subtle sparkle and elegance.
BIO
Elisa is a graduate of the CA College of Arts & Craft in the metal arts department. Upon graduation in 1994 she started a studio in Berkeley CA where she makes one of a kind and production jewelry. She exhibits her work internationally.